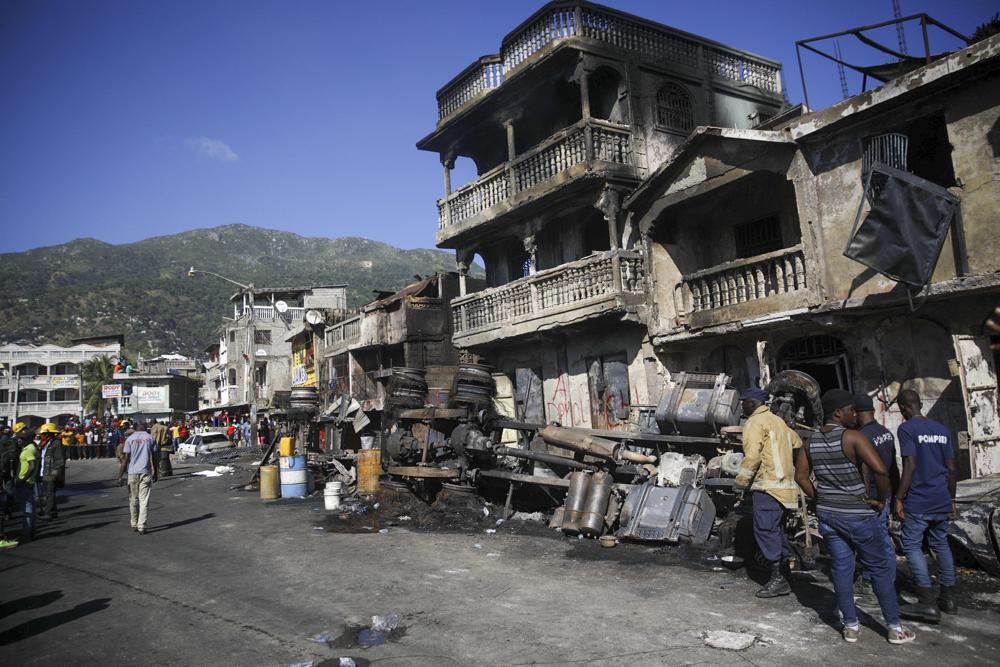 "God will strike in an unprecedented way.
Our Lady of La Salette 19 Sept. 1846
(Published by Mélanie 1879)
"Woe to the inhabitants of the earth! God will exhaust His wrath upon them and no one will be able to escape so many afflictions together.
Our Lady of La Salette 19 Sept. 1846
(Published by Mélanie 1879)
"The Society of men is on the eve of the most terrible scourges and of gravest events. Mankind must expect to be ruled with an iron rod and to drink from the chalice of the wrath of God.
Our Lady of La Salette 19 Sept. 1846
(Published by Mélanie 1879)
"God will abandon mankind to itself and will send punishments which will follow one after the other for more than thirty-five years.
Our Lady of La Salette 19 Sept. 1846
(Published by Mélanie 1879)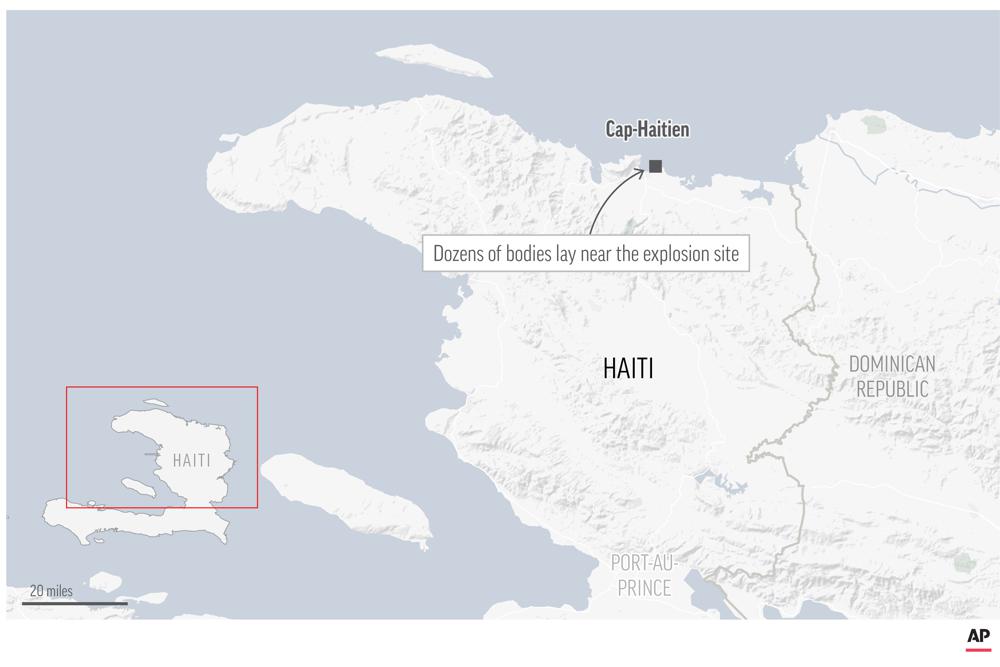 Following up posts on Mass Casualty Incidents leading up to the death of the first of the Two Popes:
MASS CASUALTY INCIDENTS TO INCREASE PRIOR TO THE DEATH OF POPE: FREETOWN OIL TANKER EXPLOSION + BULGARIA BUS CRASH + ENGLISH CHANNEL DROWNING + RUSSIA MINE EXPLOSION
MASS CASUALTY INCIDENTS PRIOR TO THE DEATH OF POPE: 10 DEAD SOUTH SUDAN BOAT CAPSIZES + 19 DEAD IN CHALMA, MEXICO PILGRIMAGE BUS CRASH
MASS CASUALTY INCIDENTS PRIOR TO THE DEATH OF POPE: 49 CENTRAL AMERICAN MIGRANTS DEAD, 58 INJURED AFTER TRUCK CRASH IN SOUTHERN MEXICO.....
MASS CASUALTY INCIDENTS PRIOR TO THE DEATH OF POPE: 100 KILLED AS TWISTERS RIP THROUGH MISSISSIPPI VALLEY 'SHREDDING' NURSING HOME AND DESTROYING AMAZON WAREHOUSE
Gasoline truck explodes in northern Haiti; dozens killed
PORT-AU-PRINCE, Haiti (AP) — A truck carrying gasoline overturned and exploded in a fireball in northern Haiti, engulfing cars and homes in flames as it killed more than 50 people and injured dozens of others in the latest disaster to hit a country whose troubles deepened greatly this year. The explosion occurred late Monday in the coastal city of Cap-Haitien as survivors rushed outside and yelled as they observed how the fire consumed part of their neighborhood. Hours later, a local hospital was overwhelmed with injured people as it pleaded for basic supplies and more medical staff. Dozens of bodies lay near the explosion site as some people used buckets to scoop up gasoline from the truck and the street to take back to their homes, Dave Larose, a civil engineer who works in Cap-Haitien, told The Associated Press. The explosion occurred as Haiti struggles with a severe shortage of fuel and spiraling gas prices that recently forced hospitals to turn away patients, temporarily shut down gas stations, schools and businesses and prompted the government of U.S. and Canada to urge its citizens to leave while they still could. "It's terrible what our country has to go through," Larose said. Haiti is still trying to recover from the July 7 presidential assassination and a 7.2 magnitude earthquake that struck in mid-August, killing more than 2,200 people and destroying tens of thousands of homes. The country of more than 11 million people also has been hit by a spike in gang-related kidnappings, including 17 missionaries with a U.S. religious organization who were abducted in mid-October. Five of them have been released but another 12 are still being held.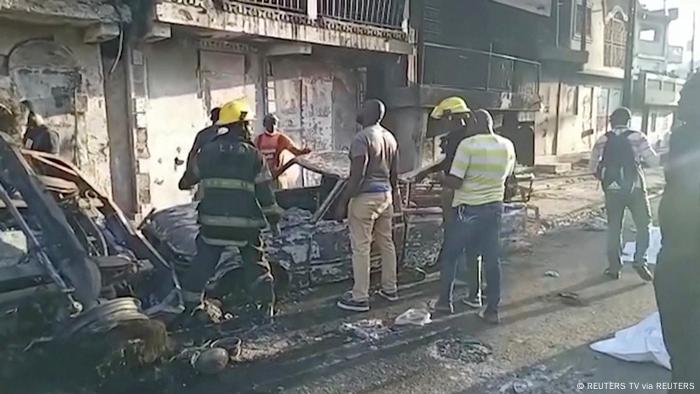 Now, Haitians find themselves mourning the victims of the explosion, which officials believe occurred after the gas truck overturned after apparently trying to avoid hitting a motorcycle, Patrick Almonor, deputy mayor of Cap-Haitien, told The Associated Press. He said at least 53 deaths and more than 100 injured have been reported following the explosion that burned around 20 homes near the site. He said he expects the number of deaths to keep rising because people who died in their homes have not yet been counted. "It's horrible what happened," he said. "We lost so many lives." Almonor said a local hospital is in dire need of more nurses, doctors and basic medical supplies to help those injured. "We are overwhelmed," a person identified as Dr. Calhil Turenne told Le Nouvelliste newspaper. Prime Minister Ariel Henry said he was devastated and announced that his administration was deploying field hospitals to the area to help those affected. "Three days of national mourning will be decreed throughout the territory, in memory of the victims of this tragedy that the entire Haitian nation is grieving," he tweeted. Former Prime Minister Claude Joseph also mourned the victims, tweeting, "I share the pain and sorrow of all the people." Source
Mass Casualty Incidents will start to be a thing now that one of the Two Popes will die soon.
You will see more of these Mass Casualty Incidents up until the death of the Pope.
No one is talking about these coming Mass Casualty Incidents...yet...but they will soon.
These Horrible Mass Casualty Incidents will be the latest trend.
As usual this is the first blog to take notice - others will follow once they read this post....as always....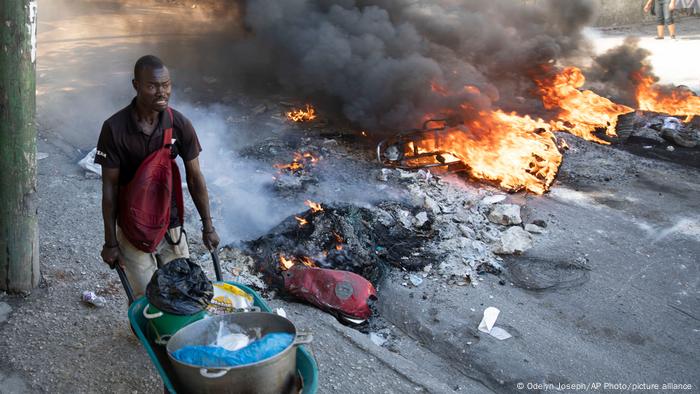 The timeline given by Our Lady of La Salette & Fatima is as follows:
1. Two Popes. (13 March 2013)
2. Manifestation of the Forerunner to the Antichrist (21 October 2019)
3. Death of Two Popes
(_ _ / _ _ / 2022)
4. Start of Thirty Five Years Worth of Chastisements
(_ _ / _ _ / 2022)
5. Rise of the Political Power of the Forerunner to the Antichrist
(_ _ / _ _ / _ _ _ _)
6. Creation of Forerunner's Nationalist Army
(_ _ / _ _ / _ _ _ _)
7. Persecution of the Catholic Church by the Forerunner and His Nationalist Army
(_ _ / _ _ / _ _ _ _)
8. The Murder of the Fatima Pope and Faithful on top a Steep Mountain by the Forerunner and his Army.
9. The Rise of the Great Monarch & Great Pontiff (near the end of the 35 year Chastisement)
10. The death of the Forerunner to the Antichrist.
PROPHECY OF MELANIE ON TWO POPES:
"I didn't see, I don't see any Great Pope or Great Monarch before an extremely great tribulation, horrifying, terrible and general for all Christendom. But before that time, twice there will be a short lived peace;
TWO
shaky, servile, doubtful popes"
Mélanie
REMEMBER - THE 35+ YEARS WORTH OF CHASTISEMENTS DO NOT START UNTIL THE TWO POPES ARE DEAD......
"The great chastisement will come, because men will not be converted; yet it is only their conversion that can hinder these scourges. God will begin to strike men by inflicting lighter punishments in order to open their eyes; then He will stop, or may repeat His former warnings to give place for repentance. But sinners will not avail themselves of these opportunities; He will, in consequence, send more severe castigations, anxious to move sinners to repentance, but all in vain. Finally, the obduracy of sinners shall draw upon their heads the greatest and most terrible calamities. Mélanie
"We are all guilty! Penance is not done, and sin increases daily. Those who should come forward to do good are retained by fear. Evil is great. A moderate punishment serves only to irritate the spirits, because they view all things with human eyes. God could work a miracle to convert and change the aspect of the earth without chastisement. God will work a miracle; it will be a stroke of His mercy; but after the wicked shall have inebriated themselves with blood, the scourge shall arrive Mélanie
"What countries shall be preserved from such calamities? Where shall we go for refuge? I, in my turn, shall ask, What is the country that observes the commandments of God? What country is not influenced by human fear where the interest of the Church and the glory of God are at stake? (Ah, indeed! What country, what nation upon earth?) In behalf of my Superior and myself, I have often asked myself where we could go for refuge, had we the means for the journey and for our subsistence, on condition that no person were to know it? But I renounce these useless thoughts. We are very guilty! In consequence of this, it is necessary that a very great and terrible scourge should come to revive our faith, and to restore to us our very reason, which we have almost entirely lost. Mélanie
MARIA OF THE CROSS,
Victim of Jesus nee MELANIE CALVAT,
Shepherdess of La Salette
"I protest highly against a different text, which people may dare publish after my death. I protest once more against the very false statements of all those who dare say and write First that I embroidered the Secret; second, against those who state that the Queen Mother did not say to transmit the Secret to all her people." Mélanie