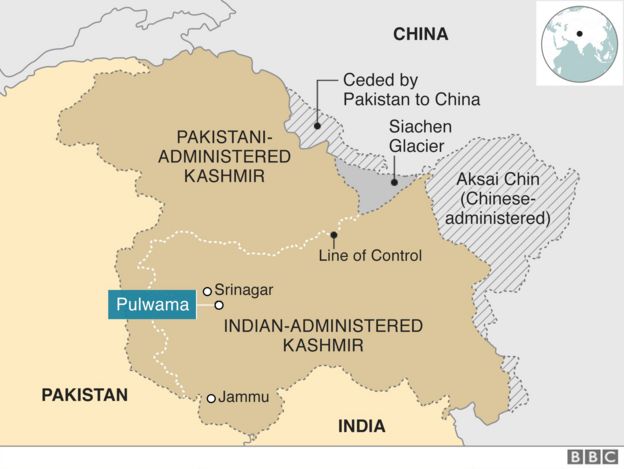 Pulwama attack: India will 'completely isolate' Pakistan
India has said it will ensure the "complete isolation" of Pakistan after a suicide bomber killed 46 paramilitary police in Indian-administered Kashmir. It claims to have "incontrovertible evidence" of its neighbour's involvement but has not provided it. Pakistan denies any role in the attack by militant group Jaish-e-Mohammad, which is based on its soil. Thursday's bombing of the convoy was the deadliest attack on Indian forces in the region for decades. Federal Minister Arun Jaitley said India would take "all possible diplomatic steps" to cut Pakistan off from the international community. But a Pakistani minister has asked India to reveal their evidence, and offered to help them investigate the attack. There has been an insurgency in Indian-administered Kashmir since the late 1980s but violence has risen in recent years.
Source
India's Catholic Church mourns soldiers of Kashmir terrorist attack
A suicide bomber on Feb. 14 rammed a car loaded with explosives into a bus carrying paramilitary police to Srinagar, killing more than 40. . India's Catholic Church has condemned the deadly terrorist attack on the country's paramilitary police in Kashmir on Thursday that killed 44 soldiers and expressed its pain for the families who lost their loved ones. A suicide bomber rammed a car loaded with explosives into a bus carrying the Central Reserve Force Police to Srinagar, the main city of India-administered Kashmir. The bus was part of a convoy of about 70 vehicles carrying about 2,500 troops to the restive region. The Pakistan-based Islamist militant group Jaish-e-Mohammad (JeM) claimed responsibility for the attack. The CRPF is working with the Indian military to quell the 30-year insurgency in Kashmir. Kashmir is a Muslim-majority region at the heart of decades of hostility between India and Pakistan. The neighbours both rule parts of the region while claiming the entire territory as theirs. Bishop Theodore Mascarenhas, the secretary-general of the Catholic Bishops' Conference of India (CBCI), denounced Feb. 14 attack as "mindless violence".
Source