JUSTIFICATION FOR CUTTING DOWN THE TREES: It is narrated on the authority of 'Abdullah that the Messenger of Allah (may peace be upon him) ordered the date-palms of Banu Nadir to be burnt and cut. These palms were at Buwaira. Qutaibah and Ibn Rumh in their versions of the tradition have added: So Allah, the Glorious and Exalted, revealed the verse:" Whatever trees you have cut down or left standing on their trunks, it was with the permission of Allah so that He may disgrace the evil-doers" (lix. 5). Sahih Muslim by Imam Muslim, translation by Abdul Hamid Siddiqui , Volume: The Book of Jihad and Expedition (Kitab Al-Jihad wa'l-Siyar)
'Gresham Lumberjack' Serial Tree Killer Baffles Oregon Community
Mike Wallace has spent months scouring thousands of photos of a forest in Gresham, Ore., looking for clues to a mystery that has bedeviled the Portland suburb for more than a year: Who is the serial tree killer? The natural-resources ecologist is hunting a criminal whom locals have nicknamed the "Gresham Lumberjack." Mr. Wallace estimates that someone has cut down more than 700 trees near a popular walking trail for no apparent reason, creating dangers for hikers and setting back years of restoration efforts. "Any time you cut down trees randomly, people get upset about it," said Dana Duval, a retiree who leads a local hiking group. "I can't figure out why anyone would want to do that." Mr. Wallace, who has added detective work to his normal duties of caring for the city's natural areas, has placed several cameras around the forest to try to catch the perpetrator. Most of the images are of hikers and bikers, as well as teenagers smoking pot, according to Keri Handaly, Gresham's watershed community liaison, who serves as a spokesperson for the investigation. "I listen to podcasts; I think it's amazing when they track down criminals after 20 years," said Ms. Handaly. "In this case, there's no murder, there's no evidence, there's no DNA." Those looking into the felled trees don't know if it is the work of one person or more, but the cuts all look the same.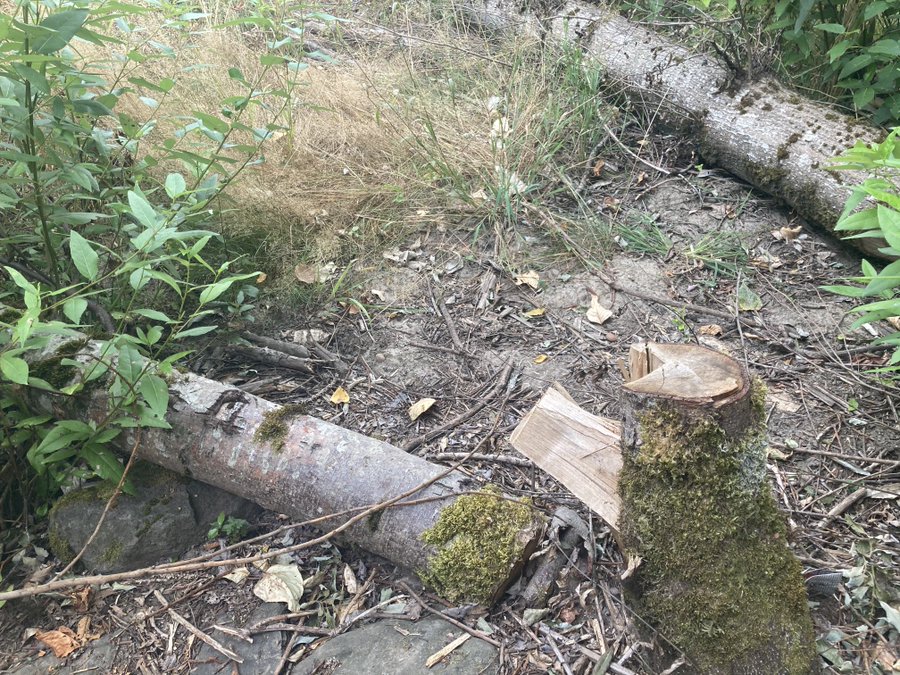 Recently, Mr. Wallace noticed something unusual. The same man was appearing in photos in every area where trees had been cut down. There was no photographic evidence of his sawing, but it was the biggest break yet in a case that has cost the city $250,000 to haul out the wood and plant new trees. Officials gave the image of the man, who is middle-age and wiry and uses a backpack, to police and people who work with the homeless in the area. No one recognized him.Meanwhile, the serial tree killer has grown bolder. Mr. Wallace recently discovered about 50 trees cut down in one area. "The trees being cut are generally getting bigger and bigger," he wrote in an email. "It appears the person is focusing on cutting many trees all at once, so we have lulls between big cuttings as they try and find a new spot to hit." Mr. Wallace first noticed a few downed trees in August of last year, according to Ms. Handaly. Soon, large batches of trees were being cut down. Vine-maple, alder, cottonwood, ash and holly trees—as tall as 80 feet and as wide as 20 inches—fell victim. Some were cut only partially, creating a danger that they could fall on unsuspecting hikers. Gresham's police detectives, attending to shootings and drug dealing, didn't have time to help, so the city formed a task force.
The team put up signs and sent letters to residents asking for people to report anything suspicious. It received a flood of theories and suspicions, but not one of the tipsters had seen anyone in the act of cutting. Some locals have said they believe a homeless person in the area was harvesting wood to make shelters and fires. Others believe bikers were making their own trail. But the city investigation has found that none of the sawed trees have been moved or used for anything. Ms. Handaly wondered if it was someone practicing for a lumberjack competition. "It's a very strange crime to continue to do when you don't have any gain from it," she said. The suspect has proven difficult to catch in part because of his or her stealth. The tree cutter targets areas away from the trail. And only hand saws are used, making little noise, a detail Mr. Wallace discovered after closely examining the marks on the wood. More than a year after the trees began falling, Ms. Handaly said some in Gresham have grown weary of the case. "We need to be doing our regular work," she said. "If they would just stop and go away, that would be great."
Source
LONDON 2021
JUSTIFICATION FOR CUTTING DOWN THE TREES It is narrated on the authority of 'Abdullah that the Messenger of Allah (may peace be upon him) ordered the date-palms of Banu Nadir to be burnt and cut. These palms were at Buwaira. Qutaibah and Ibn Rumh in their versions of the tradition have added: So Allah, the Glorious and Exalted, revealed the verse:" Whatever trees you have cut down or left standing on their trunks, it was with the permission of Allah so that He may disgrace the evil-doers" (lix. 5). Sahih Muslim by Imam Muslim, translation by Abdul Hamid Siddiqui , Volume: The Book of Jihad and Expedition (Kitab Al-Jihad wa'l-Siyar)
Muslims.
You're welcome.
"Whatever trees you have cut down or left standing on their trunks, it was with the permission of Allah so that He may disgrace the evil-doers"
Better call Special Branch! Police hunt phantom lumberjack after dozens of trees are mysteriously felled with a chainsaw along bank of the Thames
Police are investigating a mysterious chainsaw massacre - after a phantom lumberjack cut down dozens of trees along a picturesque stretch of the River Thames. Officers are stumped in their hunt for the culprit, who has struck up to 30 times over the past ten days in leafy Walton in Surrey. Extra police patrols have now been set up to get to the root of the problem and stop the whoever is felling the trees with a chainsaw under cover of darkness along a two-mile stretch between the market town and neighbouring Weybridge. The destruction has seen heavy branches strewn over the road, obstructing traffic, and dumped in the water. Local residents say they don't know why mystery chopper is targeting the ash, oak and elm trees, but believe the culprit may drive a small, red car. In a joint statement, Surrey Police and Elmbridge Council today blasted the 'mindless damage' and appealed for anyone with any information - including sightings or CCTV footage - to contact them.
Source
"Whatever trees you have cut down or left standing on their trunks, it was with the permission of Allah so that He may disgrace the evil-doers"