I am glad she sent this version of the song.......
Mr. Miles Guo revealed that two emergency incidents occurred around the opening of the Beijing Winter Olympics, according to his live broadcast on February 4, 2022.
1. An hour before the live broadcast, 16 confirmed virus cases were detected among Vladmir Putin's aides. There were also three deaths in the hotel where Putin resided, although it is unknown so far whether the three deaths are Putin's aides or hotel employees. Furious at the incident, Putin cursed in the hotel. Mr. Miles Guo indicated this incident is very abnormal from any perspective.
2. A sniper security guard stationed in Pangu Hotel fell to the ground and died, which shocked Xi Jinping.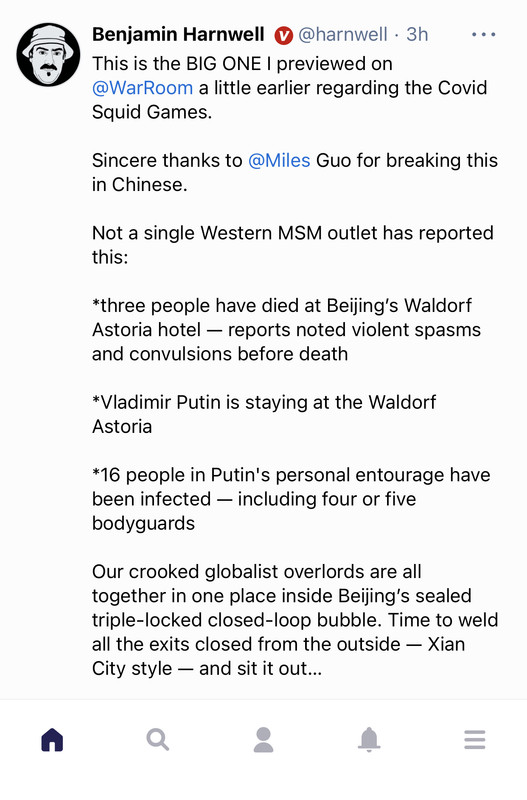 2018
The Waldorf Astoria is now controlled by Beijing
The Chinese government on Friday seized control of insurance giant Anbang — the free-spending owner of New York's Waldorf Astoria hotel — and said its chairman had been prosecuted, dramatically illustrating Beijing's willingness to crack down on financial risk. SEE ALSO China reportedly detains magnate eyed in Waldorf Astoria purchase Anbang had violated laws and regulations which "may seriously endanger the solvency of the company," the China Insurance Regulatory Commission (CIRC) said in a statement announcing the seizure, without giving details. The CIRC also said Anbang's chairman and key shareholder, Wu Xiaohui, had been prosecuted for economic crimes. Wu was arrested in June as troubles mounted for one of China's most aggressive buyers of overseas assets. Anbang is best known in the United States for its $1.95 billion acquisition of the Waldorf Astoria in 2014. As reported by The Post, the Park Avenue landmark is undergoing a pricey, three-year renovation that will reduce its hotel rooms by 1,000 as it converts most of the space to condos. On Friday, sources close to Anbang said demolition ahead of the renovation, which began in December under Aecom Tishman, is continuing.
Source