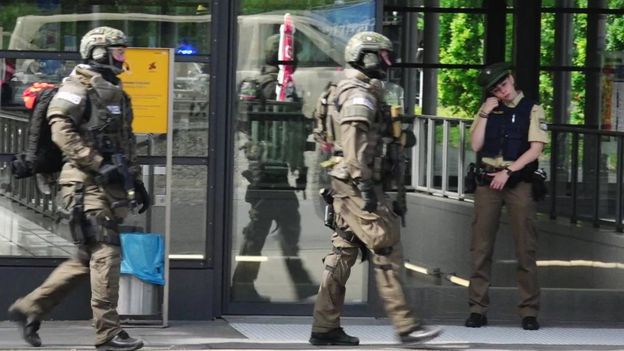 Reports that the man is a GERMAN Citizen. Meaning that he is a MUSLIM refugee given citizenship.





The MUSLIM took the female police officer's gun and shot her.





The MUSLIM also stab two bystanders



Munich shooting: Four hurt at suburban railway station
A German policewoman was shot in the head when a man grabbed a police gun at a suburban station in Munich. The woman, 26, was critically wounded and two bystanders also seriously hurt in the shooting at Unterföhring S-Bahn station, police said. Police shot and lightly wounded the gunman, who is now in custody. Police said it was not a terrorist incident. A major police operation is under way in the northern suburb of Unterföhring, and rail services have been suspended. Police said there was no further danger to the public. The two wounded bystanders are being treated in hospital, while the policewoman is fighting for her life. Police said the shooting happened when police intervened in a scuffle between several people at the station, one of whom had a knife. The man fired at least five shots. He was lightly injured when police fired back, and is now being questioned. German n-tv news says he is a 37-year-old German citizen and a Munich resident.
BBC
Policewoman, 26, is fighting for her life after attacker stole her gun and 'shot her in the head' at a train station in Munich
A German policewoman was shot in the head when a gunman stole her pistol and fired it at her at a local train station in Munich today. The policewoman, 26, is severely injured and fighting for her life. Two bystanders were hit and are seriously injured and the gunman was lightly wounded when her colleagues opened fire on him. Media reports in Germany said the man is psychiatrically disturbed. He is under arrest but has not been named. The incident occurred this morning at Unterföhring station of the Bavarian capital. Elite armed SEK anti-terror police units were scrambled to the station but were recalled soon afterwards.
Daily Mail Read More>>>>>>