Mexican Illegal In Custody After Police Chase Semi At 100 MPH Ends In Fiery Crash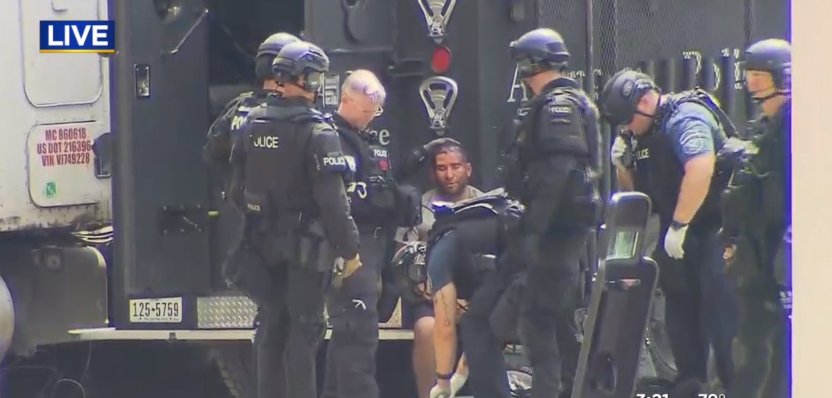 Driver In Custody After Chase, Fiery Crash On I-30
FORT WORTH (CBSDFW.COM) – A police chase that started in Fort Worth has ended with a fiery crash in Arlington leading to a two-hour standoff that ended peacefully. Around 3:20 p.m. police pulled a man out of the cab of the truck. The suspect is at JPS Hospital but in police custody. He is being charged with aggravated assault with a deadly weapon and evading arrest in a vehicle. Police said they will release his identity after he is booked in jail. In an interview live on CBS 11 News, Fort Worth police Sgt. Marc Povero said a traffic officer had tried to stop the semi in Fort Worth on Interstate-30 at Beach Street. But the driver of the truck took off, going east on I-30 — at times reaching speeds well over 100 mph.The semi was driving recklessly from the beginning, crashing into vehicles and running cars off the highway. There is no confirmation from police on whether or not the big rig was stolen.
Source
Suspect in custody after police chase with 18-wheeler ends in standoff in Arlington
A high-speed police chase involving an 18-wheeler ended in a fiery crash on Interstate 30 in Arlington on Friday afternoon. The driver was taken into custody after a standoff with police and SWAT officers that lasted more than two hours.The accident shut down Interstate 30 near Cooper Street for hours, leading to miles of backup. Westbound lanes are now open, but all eastbound lanes will remain shut down for several hours, police said. The chase started just before 1 p.m. when a Fort Worth police officer tried to pull over the 18-wheeler's driver, who was speeding and driving erratically. The driver then led police on a high-speed pursuit eastbound to Arlington. During the chase, the truck, which was carrying a load of copper, reached speeds over 100 mph and crashed into as many as eight vehicles, according to Arlington police. At least two people were being treated for non-life-threatening injuries.
Source