28 MARCH 2021
Pope prays for victims in suspected suicide bombing in Indonesia
A suspected suicide bombing resulted in the injury of several church-goers leaving Palm Sunday Mass at the Sacred Heart Cathedral in Makassar City, Indonesia. The only deaths so far reported were the two suspected bombers. The two were on a motorbike and were stopped outside the church; the explosion detonated around 10:30 am local time, right as the Mass was ending. The attack is being investigated as terrorism. The Holy Father prayed for the victims at the Angelus address this morning. "Let us pray for all the victims of violence, in particular the victims of this morning's attack in Indonesia, in front of the Cathedral of Makassar. May the Madonna who always precedes us on the path of faith help us," he said.
Terrorism
Being that the attack was on Palm Sunday, it brings to mind the twin suicide bombings in Egypt on Palm Sunday of 2017. Those two attacks were in Tanta and Alexandria, and at least 45 people died. In May of 2018, three Christian churches were attacked in Indonesia, in Surabaya.
Source
THEN THIS SAME DAY.......
28 MARCH 2021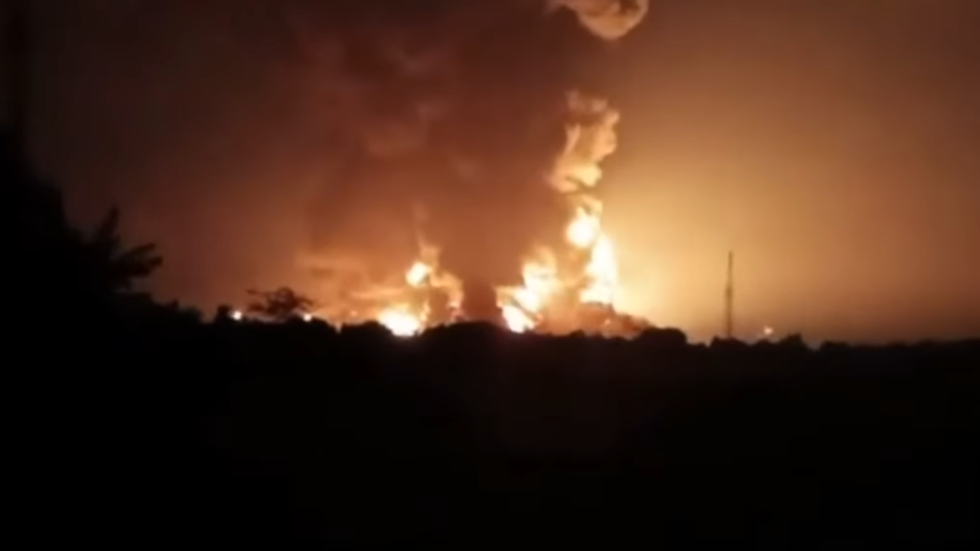 Massive explosion destroys oil refinery in Indonesia, locals evacuated
A colossal explosion has obliterated an oil refinery in Indonesia, causing a massive fire and the evacuations of homes nearby. The blast occurred at the Balongan oil refinery in the Indramayu region in the early hours of Monday morning (local time). Footage of the explosion shared on social media shows a large ball of fire and thick plumes of black smoke rising into the sky. It's not yet clear what caused the blast, nor whether there are any injuries or fatalities. According to local reports, the explosion was heard dozens of kilometres away from the refinery. Residents close to the explosion have evacuated, and some housed in government-owned facilities like the Islamic Center and the Pendopo Indramayu, Teras Pendopo reports.The fire that caused the blast is still raging. The explosion comes less than 24 hours after a bomb was detonated at a Roman Catholic cathedral in Indonesian's Makassar city on Palm Sunday. The blast, which President Joko Widodo condemned as an act of terrorism, left 14 people injured.
Source